Hi friends,
Here's your weekly fix of Friday Fuel, a collection of things that I've been learning from or enjoying recently.
🎙️Friday Features
If you're new here, every Friday I'll be sharing my conversations with some of the smartest, most innovative minds I can find.
Today's guest is an Investment Associate at Chapter One, a venture fund investing in early-stage tech companies. She's also an incredible writer whose essays on curation and exclusivity have been shared in past editions of Friday Fuel. But perhaps the most impressive part about her, is that she does all this while still being a student at Stanford University.
Here's my conversation with Gaby Goldberg: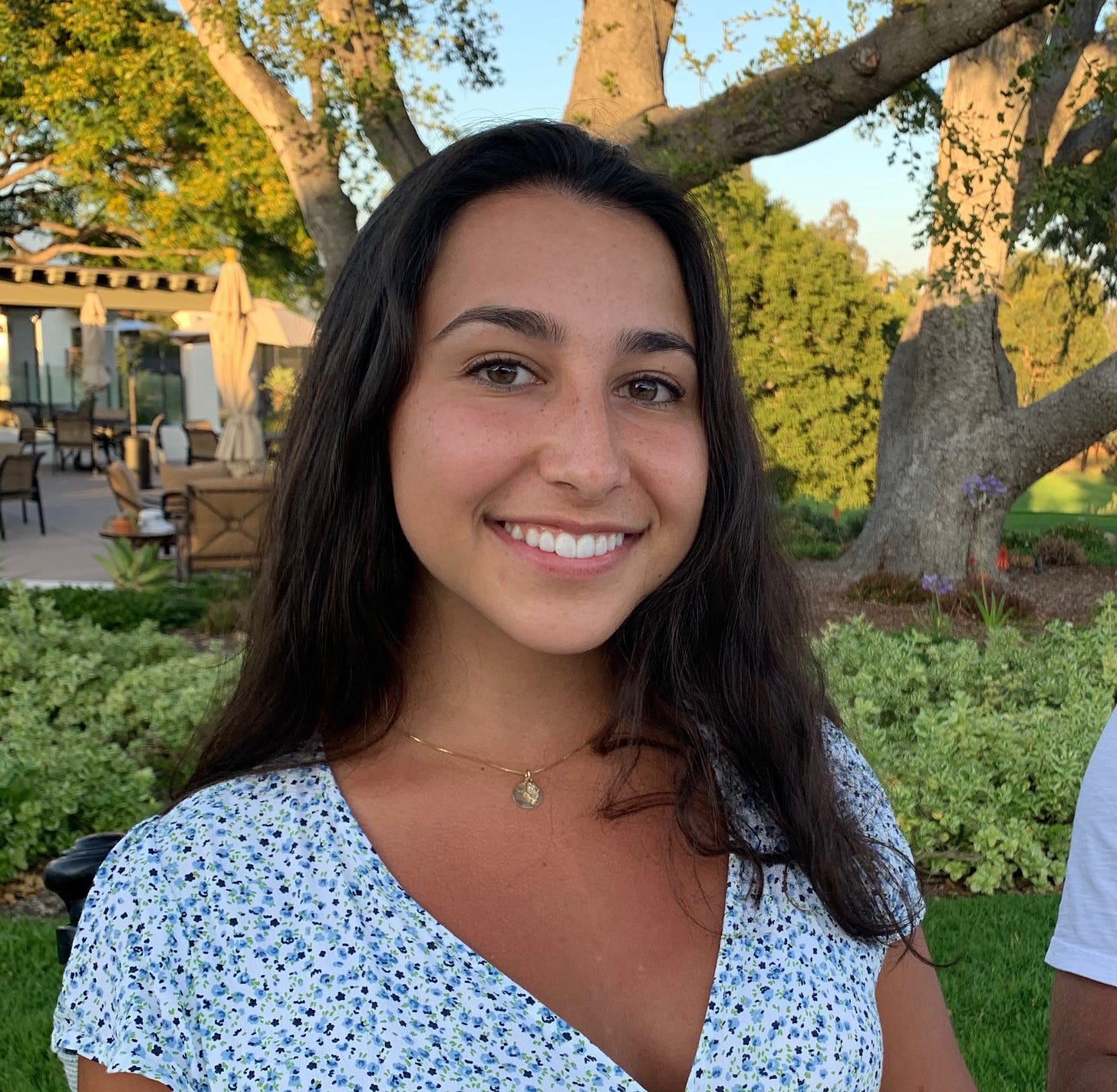 To listen, click the play button on the audio player at the top of the email.
Your feedback is important! Please let me know what you thought of this episode. I'll use these insights to decide on future guests.
If you liked what you heard, please consider sharing with some of your smartest, most curious friends, family, and co-workers. I have so many exciting things in the pipeline and want to build this community to be as strong as possible.
---
📕What I've Been Reading - Have you ever found yourself thirsty in a high foot traffic location and thinking to yourself why isn't there a vending machine here? I had this thought a few weeks ago after I hiked to the top of a mountain in Lake George and had unfortunately forgotten my water bottle in the car. This prompted me to dig deeper into the business of vending machines, where I stumbled upon an amazing article on the Hustle. Titled "The economics of vending machines," journalist Zachary Crockett shares insights he collected from 20+ independent vending machine operators.
Here's a quick glimpse of the market:
Of these 5m US-based vending machines, ~2m are currently in operation, collectively bringing in $7.4B in annual revenue for those who own them. This means that the average American adult spends ~$35 per year on vending machine items.

What makes the vending industry truly unique is its stratification: The landscape is composed of thousands of small-time independent operators — and no single entity owns >5% of the market.
Further in the article you can find a variety of charts with data on location, inventory and unit economics. If you prefer consuming your vending machine business content through video, I'd suggest watching some of Jaime Ibanez's YouTube channel. He runs a 35 machine operation and documents the entire journey to his 362k subscribers.
Spoiler: He makes more money off YouTube than his machines.
Pretty wild.
🎧What I've Been Listening To - Sahil Lavingia is a founder, investor, and creator all rolled into one. A very talented early iPhone app developer, Sahil was recruited as a teenager to be one of the first employees at a small company called Pinterest. He went on to build its mobile app and play an integral role in its growth. He then went on to build Gumroad, a platform for creators to sell their work online. Its simplicity and ease of use has garnered attention from creatives all over the world who have contributed to the $10 million of revenue it brought in last year. He has also been one of the first people to launch a rolling fund, a new venture fund structure that has taken the industry by storm.
In this episode of The Twenty Minute VC, Harry Stebbings sits down with Sahil to talk about his entrepreneurial journey and the current state of venture capital. I really enjoyed this episode because it dives into the dark side of entrepreneurship. At some of his lowest points, Sahil experienced years of failure, depression, and anxiety. Hearing this side of the story from someone so successful was very refreshing and made me respect him even more.
🤯What's Blown My Mind -
In past editions of Friday Fuel, I've shared images and emails from the early days of multiple billion dollar companies such as Shopify and Airbnb. Now it's time for Spotify. Here's Spotify's website when it launched on October 7th, 2008.
One of my favorite quotes comes from Bill Gates who said:
"Most people overestimate what they can do in one year and underestimate what they can do in ten years."
Twelve years later and Spotify is available in 92 countries and has revolutionized the music industry. In 2019, it brought in over $7 billion of revenue, marking the first year that the company turned a profit.
Much of this success can be attributed to the unique leadership style of CEO and co-founder Daniel Ek, a Swedish native who initially found the company in 2006. On Sunday, Sriram Krishnan published an in-depth interview with Daniel where he shares more about his unique morning routine, attitude towards goal setting, and decision making style.
🧵A Thread I've Enjoyed -
Part of the magic of entrepreneurship is that no two founders' journeys are the same. No matter what industry or type of business you're building, adversity and hardship are inevitable. Resilience is crucial for success. This thread illustrates just that. Immigrant, no money, no connections. Just intelligence, hustle, and heart. We often only hear the unicorn success tales, but in my opinion early stories like Kesava's are even more impressive and inspiring. I promise this story is worth reading.
Enjoyed today's newsletter? Let me know by clicking one of the three links below. Any and all feedback is greatly appreciated.
If you're new here and want to catch up on some old editions, here are a couple of my favorites: Cash is King and Friday Fuel - August 14th, 2020. If you were forwarded this email and haven't subscribed, make sure to do so here.
You can also follow me on Twitter or check out randymginsburg.com for more writing.
Thanks for reading,
Randy