Cash is King
Good morning. Ten days in and I'm still struggling to cope with the fact that it's August. If you're like me and looking for a way to distract yourself from this cruel truth, consider reading some old editions of Crashing Up and sharing with your smartest friends.
If you're one of these smart friends who hasn't already subscribed, you can sign up here:
Already subscribed and want to spread the wealth?
If you can't find the newsletter, check your spam folder and mark this address as 'not spam.' If the newsletter isn't in your spam folder, check the Promotions tab.
---
💸 Cash is King
When you hear the name Jack Dorsey, you probably think of Twitter. But you should really be thinking of Square. Square, whose $64 billion market cap is over double that of Twitter's, has exploded over the last four years with revenue growing by an average of 41 percent year-over-year. A lot of this success can be attributed to the rise of Cash App, Square's peer-to-peer payment service.
In Q1 of 2020, Cash App accounted for roughly 38 percent of Square's revenue and nearly 40 percent of its gross profits. In its recent Q2 earnings call, the company announced that the app had brought in $1.2 billion in revenue and $281 million of gross profit, an increase of 361 percent and 167 percent year-over-year respectively. Cash App has also successfully stolen a handful of users from its main competitor, Venmo. As of June 2020, Cash App had surpassed Venmo in monthly active users (MAU's) making it the dominant peer-to-peer payment mobile app.
Features: Unlike Venmo who's stuck to its guns in peer-to-peer payments, Square has made an effort to consistently provide users with new features. Over the past few years, Cash App has given users the ability to invest in fractional shares of stocks and Bitcoin, earn discounts on their favorite brands (Boosts) and receive direct deposit and ACH payments. This last feature, which is now also offered by Venmo, has been an attractive selling point in the pandemic as many Americans without traditional bank accounts have sought out ways to receive their stimulus checks faster. During this time period searches for Cash App increased dramatically compared to Venmo's, as we can see in the chart below.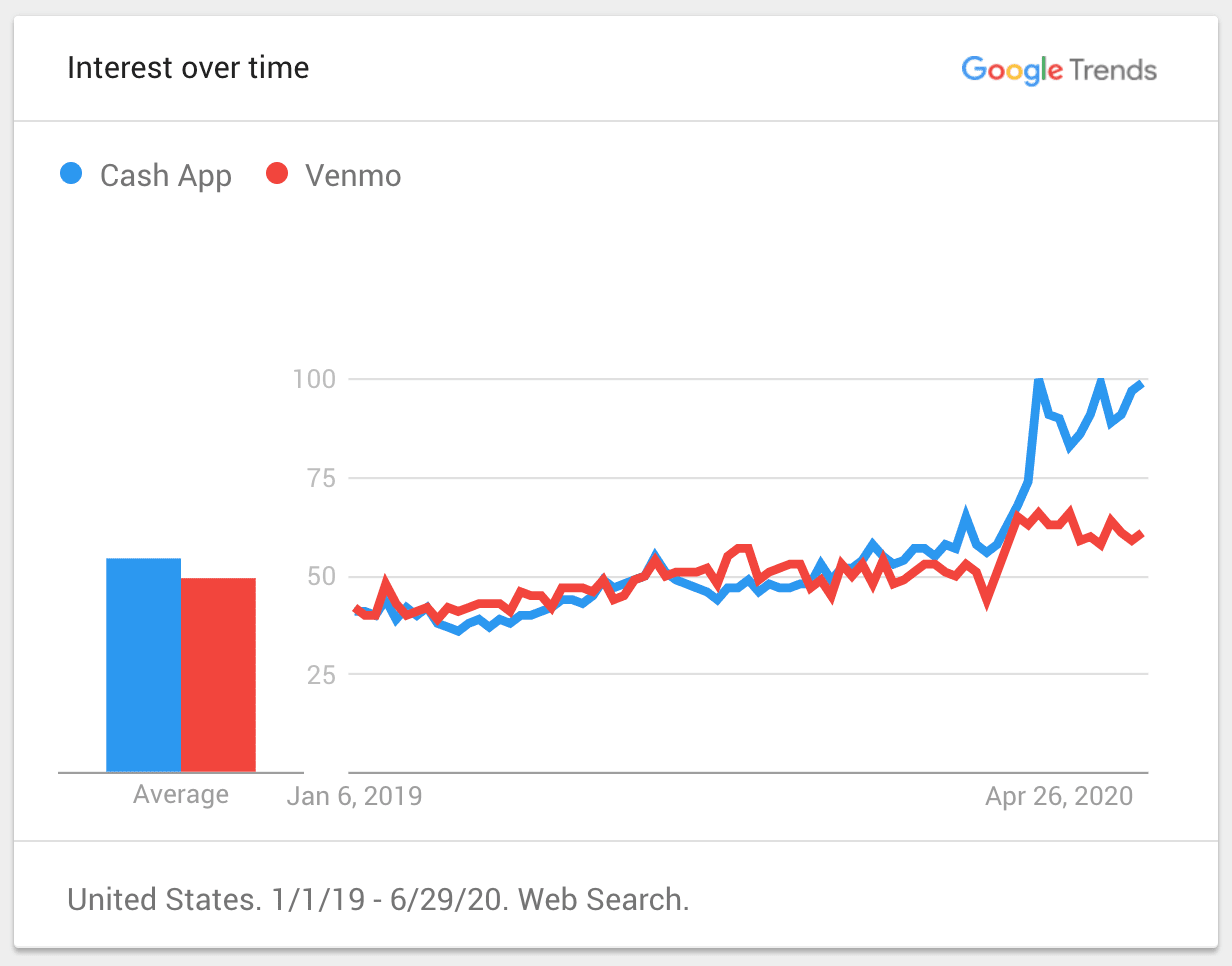 Marketing Strategy: Marketing a service-based business on social media is traditionally a tough task but Square has made it look easy. With over 2.3 million followers on Twitter and Instagram combined, Cash App has tapped heavily into digital marketing to make itself the go-to payment platform for the younger generation. Customer acquisition has been a breeze through Cash App Friday, a weekly promotion where users drop their $Cashtags (usernames to receive payment) and the marketing team picks select people to receive free money. While this promotion is clever, the real genius has been shown in its influencer marketing campaigns. Over the last few years, the team has worked with top celebrities (Travis Scott and Megan Thee Stallion), gaming collectives (100 Thieves) and podcasts (Joe Rogan and Barstool's Pardon My Take) in attempt to capture as many Zoomer eyeballs as possible. In February, Square's marketing team collaborated with Shiggy to create a catchy song to be featured in TikTok videos, providing creators with ideas of how to use it in their content. The campaign resulted in over 9,400 videos totaling over 156 million views.
Bottom Line: The Cash App freight train is picking up speed and doesn't seem to be stopping anytime soon. With the team's knack for innovation and the ability to resonate with younger demographics, Cash App is quickly becoming the go-to bank account for Gen Z.
---
💡Life in the Spotlight
Our brains are wired for us to seek acceptance and approval from those around us. It's human nature. Often we avoid risk taking and action in order to save ourselves from mistakes, failure, and rejection. The fear of doing or saying something weird in public or being judged extensively for our mistakes takes over our minds so drastically that we convince ourselves that it is not worth trying at all.
Does this sound familiar? If it does, pay close attention.
This fear of being judged is irrational. Whatever judgment you are anticipating receiving is significantly exaggerated compared to how people will actually feel. This is called the spotlight effect, or the tendency to think that more people notice something about you than they really do. This cognitive bias boils down to the fact that we as humans are naturally egocentric, even if we don't realize it. We are so used to seeing life through our own lens that we automatically anchor others' viewpoints to our own as well. If you make a mistake or do something you think is "weird" or against a social norm, people are so focused on themselves and their own actions that they will barely pay attention to what you are doing. When this fear starts to creep in, remind yourself that nobody is paying attention to you as much as you think they are. Couple this concept with the fact that nobody knows what they're doing and taking action on an idea (and being yourself) becomes a whole lot easier.
---
🧰
Tool of the Week
Ever wish there was a way to aggregate all of your texts, DMs, Slacks, and other messages in one place? I've been looking for this type of app for years (apparently many others have too), but always thought it was unrealistic since Apple doesn't have a Messages API.
Well now you can with Texts.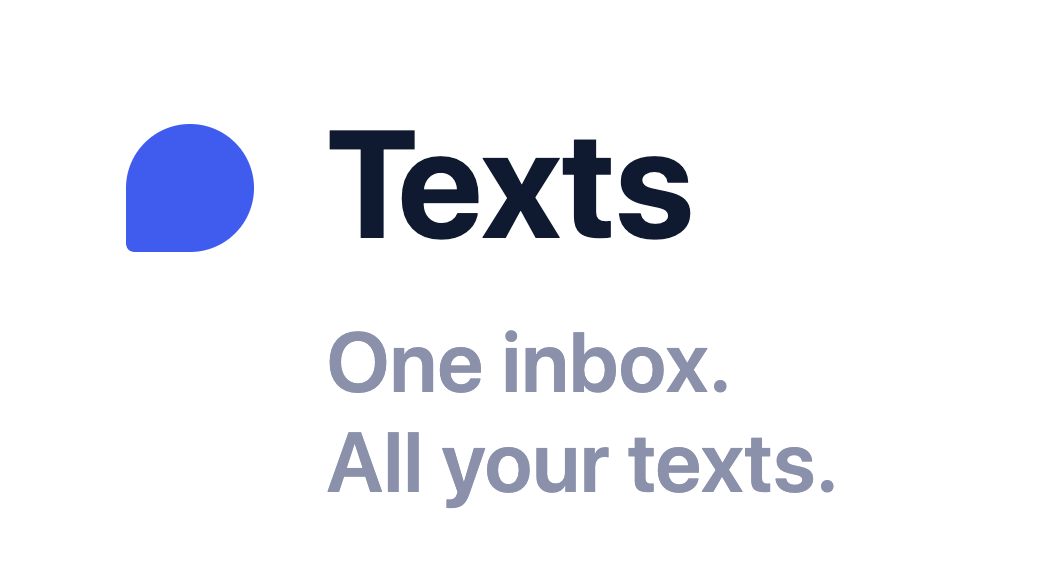 To be honest, I still don't fully understand how they're doing it. My guess is by using an unofficial API which does raise questions for long-term sustainability, but in the meantime I'm very excited to try it out. Texts is a client side app which means that all messages, data, contacts, etc. are stored safely on the user's phone as opposed to the company's servers.
Like what you're hearing and want to try it out?
You can add yourself to the early access waitlist here.
That's it for this week. If you're enjoying what you've been reading, please consider sharing with friends, family, and co-workers. You can also follow me on Twitter or check out randymginsburg.com for more writing.
See you on Friday,
Randy