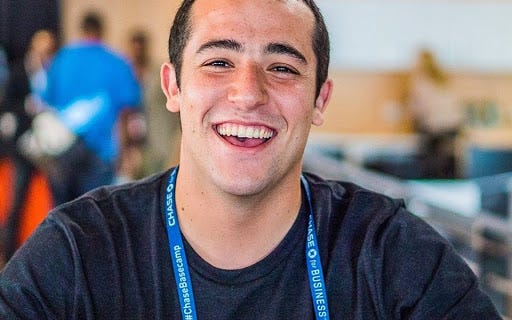 Oct 2, 2020 • 20M
Friday Fuel - October 2nd, 2020
Welcome to all of the new Crashing Up family members who've joined since last Friday. With September in the books, I'm happy to announce a fourth consecutive month of double-digit growth!
If you're reading this but haven't subscribed, make sure to do so here.
---
Hi friends,
Here's your weekly boost of Friday Fuel, a collection of things that I've been learning from or enjoying recently.
🎙️
Friday Features
On Monday, I announced that I would be launching a new segment of the newsletter called Friday Features. In case you missed it, each week I'll be interviewing some of the smartest, most innovative minds I can find and will share our conversations with you every Friday.
This is something I've been planning out for a while and I'm so excited to finally share it with you all.
You may have read about today's guest in a previous edition of Crashing Up. He is the founder of Forward Thinking City, a virtual start up city aiming to recreate the serendipity of the entrepreneurial ecosystem in the Bay Area. He's also the host of Forward Thinking Founders podcast, where he's interviewed hundreds of founders of pre-seed and seed stage companies from all over the world.
Without further ado, I bring you my conversation with Mat Sherman.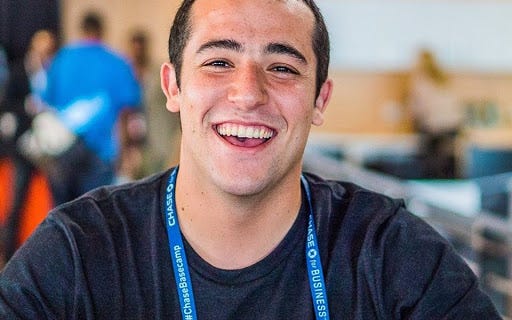 To listen to the conversation, click the play button on the audio player at the top of the email.
Here's where you can help: I need your feedback! What did you think of the episode? What do you want to hear more of? If there's someone you'd like to hear from or you think would be a good fit for the segment, please let me know. Reply to this email, shoot me a DM, or leave a comment on this thread. Whatever and whoever it is, I will try my best to make it a reality.
📕What I've Been Reading - Risk and entrepreneurship go hand in hand. We often hear that it's important to take risks early on in your career. While this is true, this is only part of the equation.
In this article, investor and entrepreneur Erik Torenberg shares his favorite piece of career advice: Take asymmetric bets.
Here's his assertion:
In short, I think the mistake we make is not understanding that taking more risk, when the benefits are asymmetric, often creates more optionality.

Consider starting a company for example—the bigger risk is not that you fail, it's that, if you don't start enough companies, you don't get enough actual shots on goal to actually create a big company.
After reading this, my interpretation and attitude towards risk completely shifted. The article is a must-read for everyone regardless of your field of work or professional goals. I'd highly recommend giving it a look.
🎧What I've Been Listening To -
Influencers have now effectively become the "athletes of the internet" and larger media companies are starting to take notice. This week, tech employee, turned investor, turned internet media star Anthony Pompliano aka "Pomp" teamed up with TikTok-er Bryce Hall to launch Capital University, a podcast dedicated to helping creators turn their income into generational wealth. Dave Portnoy also teased a podcast with famous TikTok creator and Triller Chief Strategy Officer, Josh Richards.
These are both brilliant moves as people like Pomp and Dave succeed in reaching the younger TikTok demographic, while stars like Bryce and Josh are able to continue to balloon their careers off of the platform. Bryce and Josh have both publicly declared their commitment to using their influence to build generational wealth through entrepreneurship and angel investing, so picking up some tips through Capital University seems like a perfect next step.
Only a few hours after its launch, Capital University sits as the number one business podcast in the country. Yesterday, the tandem released their second episode with Mark Cuban. I haven't gotten a chance to listen yet, but you already know I'll be tuning in.
🤯What's Blown My Mind  -
In 2012, Turner Sports purchased Bleacher Report, now a sports media staple, for between $175 and $200 million. Here's a tweet from Bleacher Report's founder breaking down the hyper-growth that the company experienced.
After the the first year of bootstrapping, the company raised a $1.5 million round of funding from a group of (now very happy) angel investors in year two. That's some serious ROI.
🧵A Thread I've Enjoyed -
Sometimes it's hard to realize that no matter how close you are to someone or how much they love you, they might not be as interested in your work as you are. At first, I thought it was personal and took their disinterest to heart. It wasn't until recently that I realized how common this is amongst solopreneurs, entrepreneurs, and creators. This is normal.
If you've ever had a dream of building something of your own, click into this thread.
It's an important lesson to learn.
Enjoyed today's newsletter? You can share it with your brightest and most curious friends, family, and co-workers. Crashing Up has been grow rapidly over the last few months and I want to keep the momentum going.
If you're new here and want to catch up on some old editions, here are a couple of my favorites: The Grand Reopening and A Whole Lot of Socks You can also follow me on Twitter.
Thanks for reading and see you on Monday,
Randy