A Whole Lot of Socks
Good morning. Last week, I teased a special giveaway with the hint: it rhymes with "pompous clocks."
The correct answer? Bombas Socks.
I always have friends and family asking for free socks, so here's your chance to win a $100 Bombas gift card. Add in my 25% off friends and family code and you're looking at $125 worth of foot-hugging greatness. That's a lot of socks.
Here's how to enter:
Step 1: Refer five people who sign up for the newsletter
Step 2: See Step 1
It's that easy. Once you've referred your five friends (and you know they've signed up) send me an email, DM, text, etc. with their names/emails. Once it's confirmed that all five are subscribed, I'll enter you into the raffle. The winner will be announced in the August 3rd edition of Crashing Up.
If you've been forwarded this email and want to get in on the action, sign up below.
You can also share it easily by clicking this button:
---
📱The Fall of Quibi
Recently, I've been working on practicing gratitude. Every morning, I write three things down that I'm thankful for:
My health

My friends and family

That I'm not an investor in Quibi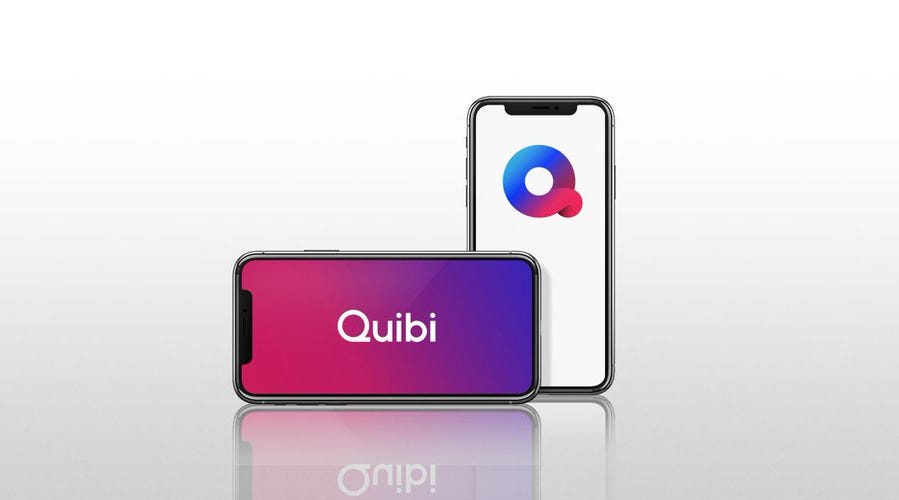 Quibi, the brainchild of former Dreamworks co-founder and Disney chairman Jeffrey Katzenberg and former Hewlett Packard CEO Meg Whitman, was promised to be the next big thing in video streaming. Designed specifically for smartphone consumption, Quibi provides users exclusive television and movie content packaged in five to ten minute segments, effectively called Quibis. These bite sized videos are supposed to be perfect for watching on the subway, during a bathroom break, or while waiting in line for a coffee. Another big selling point is the company's proprietary 'Turnstyle' tech that adjusts the point of view of video and fills the screen regardless if it is being viewed in portrait or landscape mode. This means no more black bars on your screen. The app, which launched smack in the middle of the pandemic on April 6th, raised a mind-blowing $1.75 billion from a slew of high profile companies like Alibaba and numerous Hollywood studios who were attracted to the co-founder's previous successes.
However, exclusive star-studded content and intuitive technology were not enough for users to change their viewing habits. By May, it had already fallen out of the Top 100 apps in the App Store. As of June, Quibi projected a total of 2 million signups by April 2021, a mere 30 percent of its initial 7.4 million user estimate. And now as of last week, it's recently been reported that 90% of users cancelled their accounts after the three-month free trial expired. Trouble in paradise.
So where did Quibi go wrong?
Katzenberg underestimated the power of the coronavirus. Quibi was easily able to delay their launch, but decided against it. Now, many of the scenarios where people would be watching videos "in a Quibi" (ten minutes or less) have been eliminated. Nowadays, we have nothing but time on our hands. Now, Katzenberg has attributed "everything that has gone wrong to the coronavirus."

They misjudged consumer behavior. Katzenberg and Whitman were placing a huge bet that people would want to watch TV and movies on their mobile devices. So far, this has proven to be incorrect. The digital landscape has an abundance of free short form content like TikTok, Youtube and IGTV. Why would someone decide to pay for Quibi when they have all this at their disposal? Especially when they are already most likely subscribed to three streaming services, all with high-quality content that users know they want to see.

In an attempt to keep the content exclusive, the Quibi team decided it would be smart to wall itself off from the rest of the internet. Content from Quibi was unable to be shared on Twitter, Instagram, Facebook, Reddit and more. Users weren't even able to take a screenshot of the app on their phones. (This is also the case with Disney+, but when you have 55 million subscribers in less than 9 months, you can do what you want). By prohibiting users from sharing content on their social media (think clips and screenshots that turn into viral memes), Quibi essentially shot itself in the foot losing out on millions of dollars in free marketing.
These are only a few of the many reasons why Quibi hasn't lived up to its potential. There's still time to turn it around, but with a second wave of the virus impending, things aren't looking too good. No matter which way you hold your phone.
---
💰Twist It, Pull It, Own It
The last five years have shown us that content is king. But with a potential TikTok ban looming, many creators are starting to realize how important it is to own their content and audience. The idea of owning your work is nothing new. Musicians are in a constant pursuit of their masters and it seems as if the entire world knows about the Call Her Daddy IP fiasco. But what about digital content?
Many TikTok users have begun to take necessary precautions. A clever team of engineers quickly pulled together a program that lets users export all of their TikToks into a .zip file. This gives creators ownership over all of the videos they've ever posted on the platform in case things go awry.
Still there's a bigger question: What happens if TikTok shuts down? What about Instagram or Twitter? You've worked so long to amass all these followers, but what happens if one day the apps are no longer accessible. How will you reach and retain your audience? We already saw this once with Vine as only a handful of creators were successfully able to make the switch over to YouTube to salvage their careers.
This is a move that many big-name TikTok-ers, like Charli Damelio and Addison Rae have already started to make. Each boasts a whopping 71 and 50 million followers respectively on Tik Tok, but only 2.4 and 5.1 million on Youtube. If TikTok went down tomorrow, Addison would lose nearly 95 percent of her followers. Even with her 22.8 million Instagram followers, Addison would still fall out of reach of 50 percent of her current audience.
Ninja, the biggest video game streamer in the world, is now a free agent after, Microsoft's game streaming platform, Mixer shut its doors. Luckily, he still had his 23.9 million subscribers that he previously built up to fall back on. This idea is even more prevalent when it comes to writing on the internet. It's also a reason why building an email list is so important.
Email lists are one of the only mediums that allow you to completely own your audience (and there are still caveats). If I ever decide to switch newsletter hosting platforms from Substack (what I use now) to Mailchimp, all I need to do is export my contact list to a .csv file and you all are coming with me. The same goes with writing or blogging on the internet. Medium posts are good, but writing a personal newsletter and posting on your own personal website is the safest and most effective play. The only way your email list stops is if you stop writing or everyone marks you as spam. The only way your website goes down is if you choose to take it down. This also gives you full control over SEO, as you appear higher up on Google searches and effectively boost your reach.
Again, there are still some issues with hosting a newsletter on Substack, especially when it comes to monetizing (see very interesting Twitter thread below), but it's a lot better than posting on a platform where you have zero ownership.
There is still much unknown regarding the future of TikTok, but expect to see more creators start to focus on growing their audiences on other platforms. If TikTok does go down, what app fills the void for short-form content? Instagram Reels? Snapchat? Triller (which is now the number one app in India following its own TikTok ban)? A new app? Reply to this email and let me know what you think.
---
That's it for this week. Feedback is always encouraged, so don't hesitate to reach out. Can't wait to give one of you some free socks!
Thanks for reading,
Randy