💰The Million Dollar Question
Good Morning and welcome back from the long weekend. The only thing that hits harder than Sunday Scaries are Monday Scaries, so I decided to let you rest and save all the business talk for today. We'll be back to our regularly scheduled programming next week.
If you're reading this email but haven't yet subscribed, make sure to do so here:
---
🏈Play Your Cards Right
Back in June, I wrote a small Friday Fuel blurb about the rise of the sports card market and its legitimacy as an investment opportunity. Three months later, I can confidently say my prediction came true. The card market has continued to skyrocket. Prior to writing that edition of the newsletter, I tested the waters and bought a few NBA and NFL rookie cards. In the famous words of Jordan Belfort (read Leonardo DiCaprio), the only thing I wish is that I bought more.
Let's use my 2019 Panini Prizm Kyler Murray Rookie Card as an example. In late May, I purchased this card for $300 after taxes. If you're reading this and want to smack me through the computer for spending 300 bucks on a piece of cardboard, I promise I'm not as crazy as I seem. Keep reading.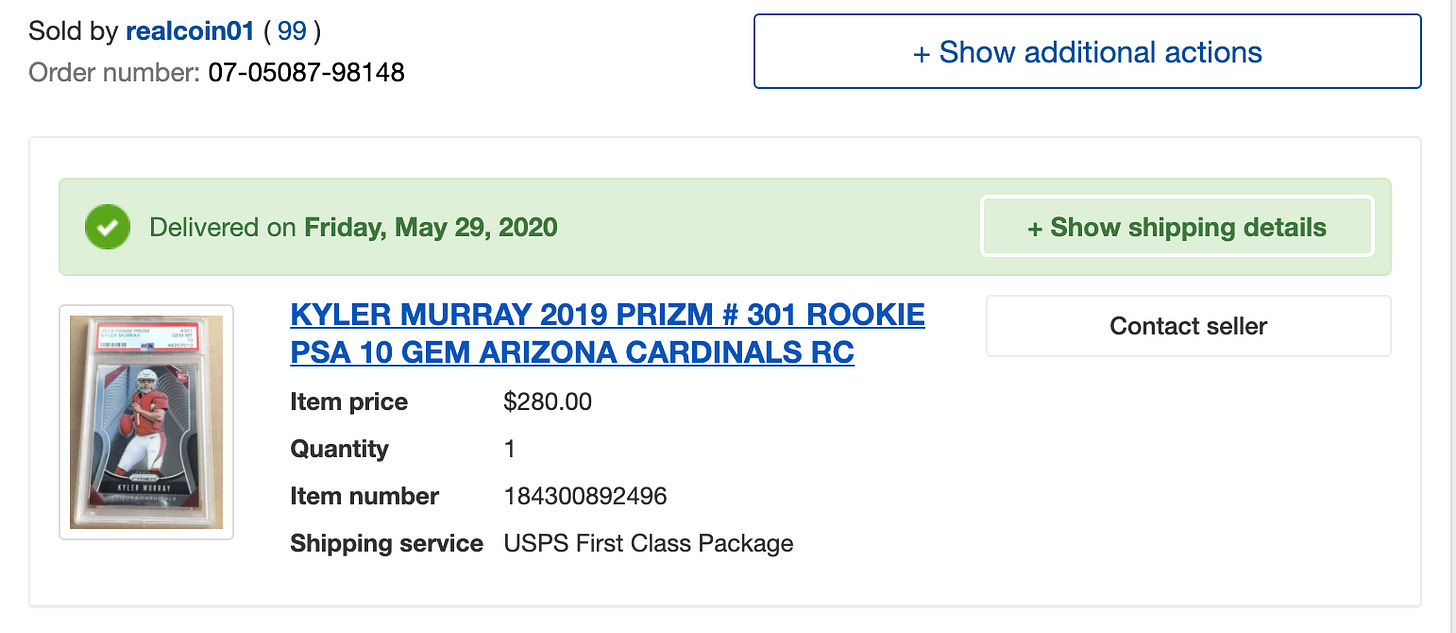 A few days ago, the same card sold for over $830 dollars on eBay. If I were to sell on eBay for this price, I would net $720 after eBay and PayPal seller fees. That would be a 140% return over less than four months.

I would normally say you can't get this type of return in that timeframe from any equity in the stock market, but at this point nothing stock related surprises me anymore. That being said, there's a lot of money to be made in sports cards if you're willing to take on a bit of risk and looking to diversify your investment portfolio.
Why Sports Cards?
With the legalization of sports betting and the Gary Vee fueled hype train surrounding the hobby, buying and selling sports cards is now viewed as a less risky form of gambling.
Here's how it works: Buy the cards of young players (or legends) who you expect to pan out (and eventually win MVPs, championships, awards, etc.), hold on and root for your players, and if they perform well, sell when you see fit. Unless the player you choose to buy is a complete bust, it's highly unlikely that your card's value is going to zero.
This is a nice plus compared to sports gambling where a garbage time touchdown can be the difference maker between winning and losing all of your money. This is also a nice complement to daily fantasy games like DraftKings and FanDuel as it enables you to always have someone to root for without putting money down on every game.
Buying and selling cards is a way for teenagers to scratch their entrepreneurial itch, the same way they have spent the last decade doing so with sneakers. With much of the sneaker hype beginning to fade, many young footwear enthusiasts are starting to test their business chops within the card market. The beginning of this migration has been sizable enough for big sneaker players to take notice. In late 2019, StockX announced that it would be adding a trading card category to the platform.
Even with the recent surge, collecting sports cards and other memorabilia has always been a popular and profitable hobby. Check out this stat from Axios:
The PWCC 500 Index, which is essentially the S&P 500 for trading cards, has reported a 12-year ROI of 175% compared to just 102% for the S&P.
Pretty crazy.
How Can Other Industries Capitalize Off of This?
E-Sports: Esports is one of the fastest growing industries in the world. Last year, the industry had an estimated audience of 453 million, jumping from 293 million in 2016. Given the nature of their job, esports athletes are by far and away the most connected with their fans. Unlike traditional sports, it's nearly impossible to buy the jersey or rookie card of your favorite streamers. This massive gap in the market is begging to be filled. Instead of relying on big-name card manufacturers, esports athletes should print a limited run of their own rookie cards. Market the cards through their digital channels, use exclusivity to generate hype, and reap the benefits. Even if it turns out that physical cards aren't this segment's desired collectible, this will serve as a great marketing experiment for future fan offerings.
Sneakers: There is a huge opportunity for the collaboration between sneaker brands and card manufacturers. Starting in the mid-90s Jordan sneakers were packaged with a retro card, a double-sided post card that detailed the history of the shoe and notable image of Jordan wearing the style. These cards became sought-after collectibles themselves. Imagine the hype if Nike partnered with Panini to release a limited edition Zion Williamson card that was packaged with the release of his first signature shoe. Cards could be made in limited supply and placed at random in boxes. Nike could design a Panini exclusive edition with special packaging. The opportunities are endless. The sneaker and streetwear blogs would eat it up. Card fanatics would flock to shoes. Shoe fanatics would flock to cards. Everyone wins.
Musical Artists: For the last few years, artists have been gaming the Billboard charts by offering album-merch bundles. This means that with every piece of artist merchandise bought, you'll also receive a copy of the digital album whether you want it or not. Although Billboard has worked to limit this, it is a still a popular tactic amongst many high-profile artists. With artists' fanbases like the Swifties and the Beyhive more devoted and crazed than ever, selling a limited amount of card (or other collectible)-album bundles could be a great way to engage with fans, sell more albums, and bring in more revenue. No better way to show the dedication of your fandom than buying a limited edition collectible. Artists with sponsorships, like Drake and Nike, can get even more creative with their offerings.
Despite what it sounds like, this is by no means a get-rich-quick scheme. That being said, there is a lot of room for opportunity in the current market. With the NFL season set to begin this Thursday, I've started to sell my NBA cards and stock up on football and soccer. I'll be writing periodic blog posts tracking the status of my investments and what I've been learning along the way. If this is something you'd be interested in reading, let me know by replying to this email or leaving a comment here.
---
💰The Million Dollar Question
Over the weekend, my friend asked me a hard-hitting question: If I gave you $1 million dollars right now to start your own business, what business would you start?
I shuddered.
During my college internship search, I was generously given the opportunity to speak with one of my friend's uncles who was the CEO and founder of a top tier talent agency. During the call, I raved about my love for the music industry and my passion for entrepreneurship. All seemed to be going well until he posed a question. The same question that my friend asked me above. I'll let this meme illustrate my reaction.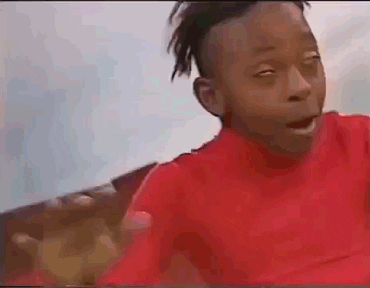 My answer? Start a big record label.
Now this is the part where you can smack me through the computer. Not only would one million dollars barely scrape the surface of the legal fees required to run a major label, but I couldn't even name the three big players in the industry (Sony, Universal, and Warner, if you were curious). If I wasn't a close friend of his nephew, I'm sure the guy would have laughed me off the phone. Instead, he took the time to educate me and nicely tell me to get my shit together.
This experience has served as a pivotal wake up call in the early stages of my professional development. Here are the lessons I learned:
Always be prepared and have questions ready to ask

Aside from checking out his LinkedIn and a quick glance of the agency website, I did essentially zero research on this guy or what he did for a living. I prepared no questions and relied on the basis of our second degree connection to prop up the conversation. This is a massive no-no for any networking call, let alone one with someone important whose time is valuable and scarce.

You're not as smart as you think you are

It's very common that we don't know what we don't know. Re-read that a few times to make sure it clicks. Often times, we think we know a lot more than we do and can come across as overconfident, cocky, and foolish. Go into every conversation with an open mind and expect your beliefs to be challenged and changed. A willingness to learn is one of the most desirable and sought after qualities of a job candidate, co-founder, and business partner. No matter how big you get, make sure this never changes.

If you say you want to do something, be prepared to be asked how you'll make it a reality

I'll be honest. I still don't have a concrete answer to that question. But, I do have a much better idea of the direction I want to go and what's required to make it a reality. It's expected that your identity, visions, and goals will constantly evolve. You're not supposed to have everything figured out, but always make sure you have an idea of how you plan to achieve the goals you set.
If what you just read resonated with you, it would mean the world to me if you shared this with your friends, family, and co-workers. Crashing Up has been growing rapidly over the last few weeks and I'd love to keep the momentum going.
---
🧰Tool of the Week
I came across Toucan on Twitter a few weeks ago and added it to my Pocket because I thought it was a clever idea. Now it's the #1 Product of the Day on ProductHunt.
Toucan is a Chrome extension that helps you learn a language while you browse the internet. Toucan will show you words and phrases of the language you want to learn in the context of your current article or webpage. For a visual learner like me, this tool is a game-changer. Watch the video below to see how it works:
If you want to give it a shot, you can download Toucan here.
That's it for this week. If you checked out of email for the long weekend, make sure you catch up on last week's Friday Fuel. If you don't trust me, trust its 23% click-through rate. That's not something you want to miss.
If you're new here and want to catch up on some old editions, here are a couple of my favorites: Cash is King and Live From the Bubble. You can also follow me on Twitter or check out my website randymginsburg.com for more content.
Thanks for reading,
Randy